Cabaret: Beckumer Spitzen
Beckumer Spitzen - Cabaret at the Municipal Theatre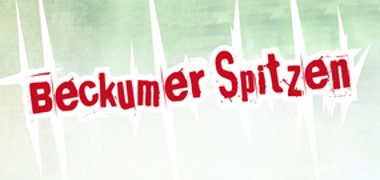 Pointed tongues and entertaining undertones
9 evenings with very different artists, but always of the finest, are also waiting for you in the current season 2023/2024.
All events start at 20:00 in the Stadttheater, Lippweg 4-6, 59269 Beckum.
Box office: 7:00 pm
Admission: 7:30 pm

The municipal theatre is barrier-free.
Parking: Osttor car park, Sternstraße 30; Hindenburgplatz, 59269 Beckum
Subscription:

9 cabaret evenings - on a reserved top seat - at the reduced advance booking price of 169 euros.
You can purchase a subscription in person at the citizens' offices of the city of Beckum, by telephone on 02521 29-3301 or by e-mail at: buergerbuero@beckum.de.
Beckum town hall office:
Rathaus Beckum, Weststraße 46, 59269 Beckum.
Wheelchair-accessible. Stop: Beckum, Town Hall
Citizens' Advice Bureau of the City of Beckum (Neubeckum):
Neubeckum, Hauptstraße 52, 59269 Beckum.
Upper floor, accessible via stairs or narrow lift. Stop: Neubeckum, market
Single tickets:
Buy your tickets (except subscriptions) to the desired event conveniently online at:
www.beckum.de/kartenvorverkauf (plus service fee).
You can reach the cultural ticket office by telephone: 02521 29-3350.
Event overview 2023/24

Download the full programme of events 2023/24
Third-party photo rights, if communicated by the responsible persons, are indicated with the photos.


3Disagreement: "Cabaret about theology, religion and church".

Saturday, 16.09.2023

Hanno Endres, © Hanno Endres

@Hanno Endres

A Catholic, a Protestant and a philosopher meet. On stage. Sounds like a joke, but there is always trouble when the three men talk about religion. The cabaret artists disagree about whether Jesus wanted a church, how the Pope is really elected and whether the Protestant in their ranks is actually a Pietist or Franz Liszt.

Markus von Hagen, Christoph Tiemann and Urs A. von Wulfen have already been awarded various cabaret prizes for their individual programmes. Now they are on stage together for the first time as "3Uneinigkeit". Cabaret about theology, religion and church at a high level - and still funny.

Church Cabaret                                   

Advance booking: 21,00 Euro

Box office: 23,00 Euro




Horst Evers: "I'm not one to make a fuss".

Thursday, 19 October 2023

@ Thomas Nitz

Horst Evers tells stories from the here and now: experiences, incidents and observations in which he lovingly transfigures our everyday life and our increasingly disturbing present into the comic with a lot of wit and a pinch of wisdom.

He tells stories: He reads, shouts, drones, hisses and booms them out in such a way that it is just that. Packed, as always, into many little stories that begin innocently. But above all, it's terrific fun.

But it's best to see for yourself. So far it has always been very worthwhile for everyone involved.

 Literary Cabaret

Advance booking: 23,50 Euro
Box office: 25,50 Euro




Barbara Rauscher: "Mother is the Beast"

Friday, 10 November 2023

Barbara Ruscher, a well-known cabaret lady, WDR radio columnist and single mother from TV programmes ("Nuhr im Ersten", "Ladies Night" etc.), takes a satirical, biting and charming look at the burning issues of our time.

An evening about patchwork in the caravan, sustainability, partner portals, cancel culture, children, climate change, SUP, imprinting by parents, racism or puppy glut from Dognet. Because since the lockdown, everyone has a pet. Those who don't have one have Alexa.

Let yourself be intoxicated by accomplished female satire at its best. Delightfully wicked, self-deprecating and above all incredibly funny.

Besti(e)al Cabaret

Advance booking: 23,50 Euro
Box office: 25,50 Euro




Mellow: "Blow Your Mind!"

Saturday, 20 January 2024

If you're rubbing your eyes and your brain cells are being blown away, then you're at Mellow's brand new live show. The likeable magician in the hoodie is the German master of magic and will turn your world upside down for an evening of creative illusions and humorous storytelling.

In the middle of the audience and at eye level, Mellow amazes with ingenious magic tricks from his magic candy bar and floats away in a soap bubble at the end. Let Mellow blow your mind!

Feel-good magic to laugh and marvel at.

 Magic illusions

Advance booking: 22,00 Euro
Box office: 24,00 Euro




Addictive potential: "Ball pool Forever

Friday, 03 February 2024

10 years of "Suchtpotenzial", that's 10 years of "Titten, Tasten, Temperamente"!

Arianne Müller & Julia Gámez Martin have really been through a lot: on tour with Deutsche Bahn, digital shitstorms and splits to boot. On the side, they have won all the important prizes - including the German Cabaret Prize. Addictive potential, that's what it is.

Germany's most successful alcopop duo always remains hairy but fair despite all adversity. Because in a crisis-ridden world, in the face of the apocalypse, people long for a bath in beguiling music, brutal corny jokes, bittersweet feelings and wacky ideas.

So off to the Jacuzzi of good humour. No one wants to be picked up from this ball pool.

 Musical antidepressant

Advance booking: 30,00 Euro
Box office: 32,00 Euro




Lisa Feller: "Dirty Talk

Friday, 24 February 2024

All of life is a talk. Markus Lanz talks and so does Sandra Maischberger. That's why the new programme of the popular comedy all-purpose weapon from Münster is also called "Dirty Talk".


Dirty talk has a high culture right now: in politics, in social media, in private relationships - everywhere only "dirty talk". About each other, against each other, with each other.

A found food for the quick-witted Lisa Feller, whom hardly anyone who has followed funny cabaret, witty comedy and likeable show performances on TV and on Germany's live stages has passed by in recent years.

Comedienne Lisa Feller: funny and likeable as always, but cheeky and fresh as never before.

Stand-up comedy talk

Advance booking: 27,50 Euro
Box office: 29,50 Euro




Martin Zingsheim: "It's not normal".

Friday, 19 April 2024

It's always good to think you're on the right side. Politically, ecologically and mentally. It's always the others who are crazy, even if the cappuccino is more expensive than the schnitzel. Climate change, child poverty, self-exploitation? Don't worry, it's all quite normal.

In his current programme, Martin Zingsheim confronts the unquestioned insanity and bogus truths believed to be safe.

Although, "it's not normal", as the master of language, pointing and wordiness masterfully sings his smart songs on the piano, tastefully accompanied by Martin Weber on violin and guitar.

Funny, relevant and crazy in a positive sense. Between you and me, it's not normal.

Music cabaret


Advance booking: 21,00 Euro
Box office: 23,00 Euro




Marcel Kösling: "Köslings Komedy Klub" (Comedy Club)

16 May 2024

Marcel Kösling from Hamburg is a magician, cabaret artist and comedian. When he's not winning awards as a solo artist, he's guaranteed to be on a stage somewhere as a presenter. Maybe at the Schmidt Theatre, the Quatsch Comedy Club, Nightwash or on a Hapag Lloyd cruise ship.


Awarded 10 cabaret prizes, he tours the German-speaking world incessantly and gets to know and appreciate many colleagues, 3 of whom accompany him each evening in this entertaining mix show. Who his guests will be in Beckum remains a secret until the evening of the event.

Marcel Kösling promises a wild mixture of comedy, cabaret, magic, acrobatics and curiosities!

Mix show with surprise guests

Advance booking: 21,00 Euro
Box office: 23,00 Euro

With friendly support:










---